About Quilters Hangup®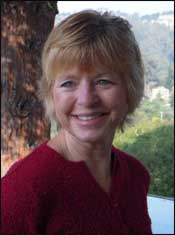 The idea for Quilters Hangup® was born one afternoon while a few fellow quilt guild members were visting at my quilt shop in Granite Bay, California. We were discussing the subject of how much work it is making quilt sleeves for the quilts we display in shows. That's when it hit me. Why on earth doesn't someone sell pre-made quilt sleeves? I knew immediately that I could sell this product, if only it existed. During the 11 years that I owned my quilt shop, I had taught many quilting students how to make quilt sleeves and it was never what we would call the "fun" or "creative" part of the process.
After giving it more thought, I decided to take the entrepeneurial route and come up with a quilt sleeve design on my own. Over the next 36 months, I took a class on "how to write your own patent", sold my quilt shop, and put everything I had into developing the patent and product. I found a marketing company to assist me in branding and producing my newly-patented product and we have now introduced our Quilters Hangup® quilt sleeve into the market place!
It has been quite an adventure! To learn more about Quilters Hangup®, please visit our See it! and FAQ pages.